You get the impression that England never really accepted that Ireland (even part of it) became an Independent country not even joining the Commonwealth
Like an eldest daughter who has left home to raise her own family, she is still expected to listen to her mother's advice and behave accordingly.
It reflects the attitude to the Republic wanting to ave a say in the boarder between it and the North resulting in the appalling this
The UK (it was absent from t Irish issue) version of The Sun newspaper, which has used choice phrases to criticise Taoiseach Leo Varadkar.
In an editorial, the paper uses the headline: "Ireland's naive young prime minister should shut his gob on Brexit and grow up".
It then offers "some advice", suggesting Mr Varadkar "needs to accept" that Britain is leaving the European Union.
It says:
"His priority should not be picking holes in our position.




"It should be helping make Brexit work for millions of his citizens and ours, including by engaging constructively on a border solution.




"He is too busy disrespecting 17.4 million voters of a country whose billions stopped Ireland going bust as recently as 2010",
It also claims that Mr Varadkar's "rookie diplomacy, puerile insults and threats to veto trade negotiations" are moving a 'hard Brexit' closer.
The held a meeting with British Prime Minister Theresa May on Friday, calling for written assurances before the next phase of Brexit talks begin.
The attitude seems to also reflected in Westminster where the Taoiseach's predecessor Edna Kenny seems to have been regarded as a little more than a
junior minister resulting in this.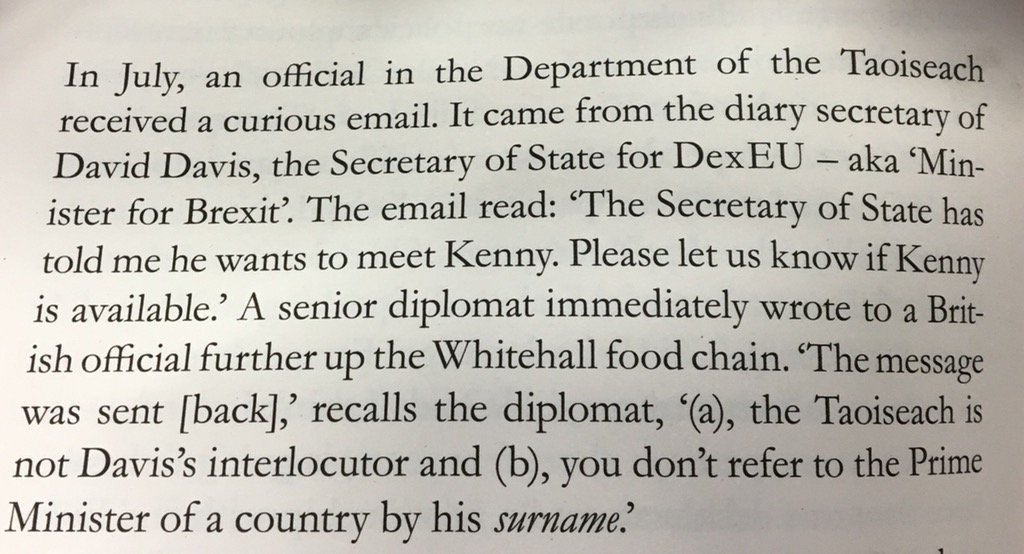 We can wonder if the knowledge of our Brexit team is so bad that that they may even had thought that Kenny was the Taoiseach's first name?
As we negotiate Brexi,t it is those English Nationalist who should realise that if we are to have a boarder solution with the Republic of Ireland then the latter needs to be treated as an equal. Though the Republic is not on its own and has powerful allies in the rest of the EU.
Clearly the UK government seem to have taken a long time to realise that Brexit will have a profound affect on our relationship with the only country we share a land boarder with.
Its part of a colonial attitude that must be dropped to make sure that Brexit will not see a hard boarder between the Republic and Northern Ireland or custom barriers between Ireland and the rest of the UK.
This is particularly important for Cymru as the port of Holyhead's future may well depend on a working solution.
Surely treating the Irish Government as equal and referring to the Taoiseach's by his or her's proper title.